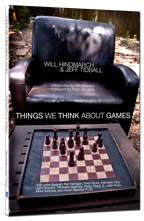 Will and I got word over the weekend that Things We Think About Games has been nominated for an Origins Award in the Non-fiction category.
Ken Hite's Tour de Lovecraft: The Tales from publisher Hal Mangold's Atomic Overmind Press provides excellent company in the category. (Which isn't to slight the other three non-fiction nominees, I'm just not familiar with them.)
Needless to say, we are delighted.
Nominations are assembled from among products submitted to the Academy of Adventure Gaming Arts and Design by juries. Each jury selects roughly ten products, which are narrowed to five (sometimes six or seven, in the case of ties) by retailers attending the GAMA Trade Show. The winner in each category is traditionally selected by a popular vote, which, this year, will be conducted at Origins. Winners will also be announced at Origins, on Saturday, June 27.
Do the Origins Awards mean anything? They do to us. Many thanks, anonymous non-fiction jury and GTS-voting retailers.
ICv2 has posted a full list of nominees in all categories.