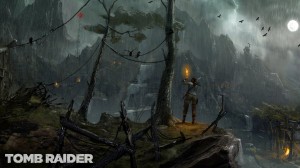 More than anything, the new Tomb Raider game makes me enthusiastic for another game in the series that takes the best from this new vision and jettisons the game's meanest elements. The result might be a step back toward the franchise's earlier swagger combined with the scale, detail, and humanity of this year's installment. Call it gritty without being gruesome.
I'll do my best to avoid spoilers for the 2013 Tomb Raider here, but be aware that I'll be making some direct references to that game as I proceed.
Here, then, is what would go into my Tomb Raider sequel.