Friendly Local Game Store
"Vivid and honest, Gary's writing puts his readers in the moment and opens their eyes to the competing business pressures he faced every day, from financial to psychological. Absolutely mandatory reading for anyone remotely considering investing in the hobby game industry."

—Michael Bahr, Desert Sky Games (Chandler, AZ)
 Friendly Local Game Store
by Gary L. Ray
Foreword by Travis Severance
ISBN (print edition): 978-0-9818840-7-3
6×9 inches • 174 pages • softcover
$24.95 (US)
Build the Store Your Community Deserves
Tabletop gaming is on the rise. If you love games like Catan, Magic: The Gathering, or Dungeons & Dragons; like the sound of being your own boss; and are willing to dive deep into what it takes to build a successful business, then this is a book for you.
In Friendly Local Game Store, you'll learn what you need to know to build a store that doesn't just sell games, but creates a community where games are beloved:
A detailed look at your store's startup costs, and why starting off undercapitalized is worse than not starting at all.

An exploration of your store's unique value proposition, and why Amazon will eat your lunch if you don't have one.

A sober examination of why you should think twice about hybrid stores with cafés, coffee shops, or bars.

Inventory management 101: your open-to-buy budget, turn rate fundamentals, sales per square foot, and more.

Running in-store events, hiring and managing employees, and navigating social media.

But most importantly, how your game store can provide you with a reliable, middle-class income.
Among this down-to-earth advice, Gary Ray shares the stories of his years running Black Diamond Games. From the moment he realized he was going to leave his IT job, to the third-year move necessary for the store to keep growing, to the time he forced his lender to renegotiate his mortgage. Even if you don't want to open a game store, you'll appreciate these stories about what it takes.
Do you believe in the power of the friendly local game store? This is the book for you!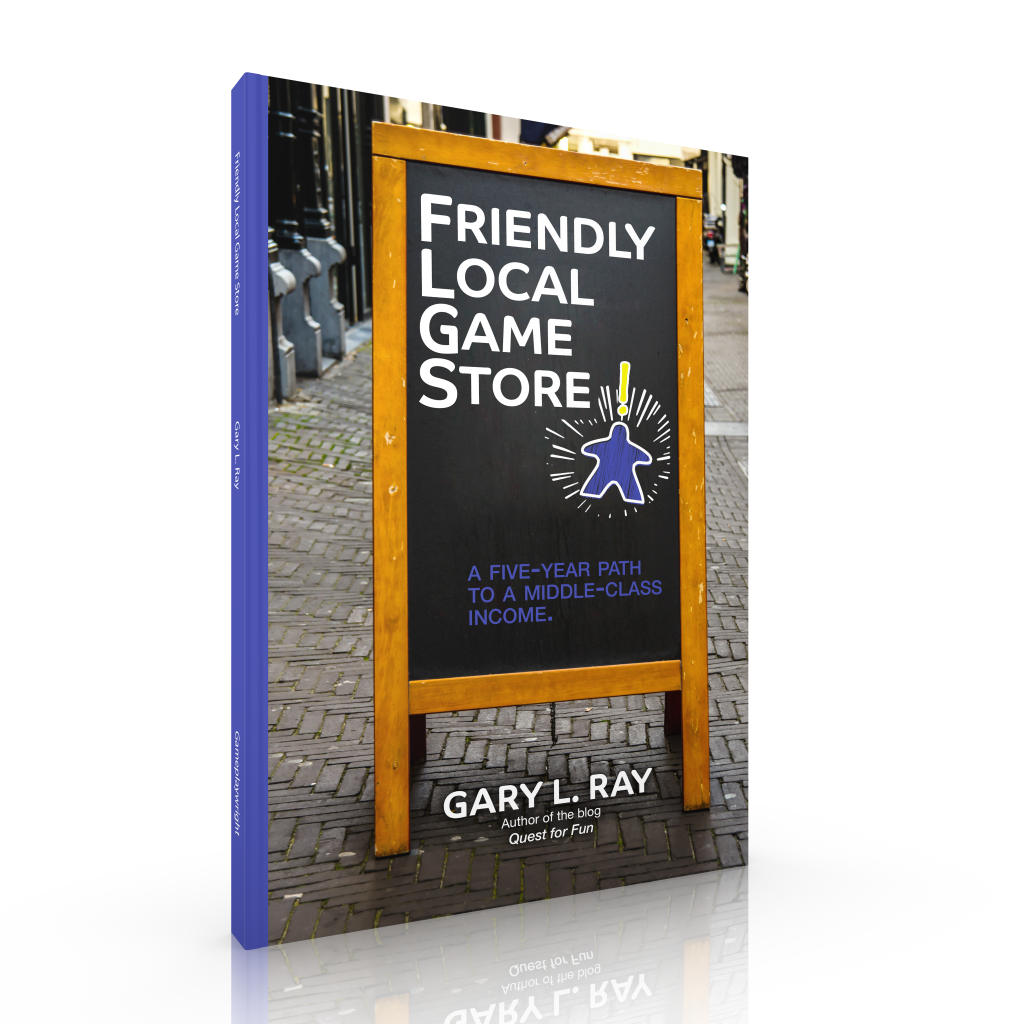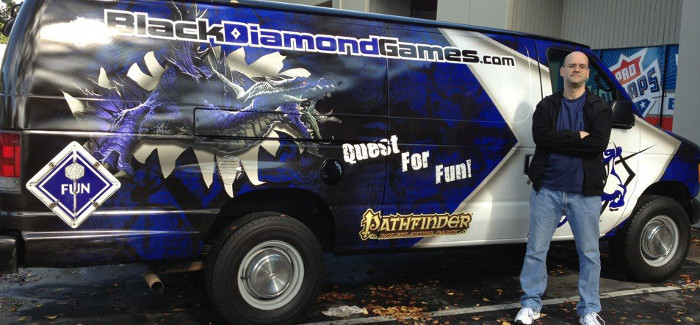 Featuring the Book
Author Gary Ray appeared in features about the book recorded at the GAMA Trade Show right around the time of publication. See Gary talk with Dice Tower and see Gary appear with BoardGameGeek. These are great ways to learn more about the book.
Contents
Foreword

Introduction

1: Bistro Math

2: Running the Numbers

3: Motivation

4: Unique Value Proposition

5: Financing Your Dream

6: Marketing Your Game Store

7: Events

8: Selling Online

9: Purchasing and Inventory Management

10: Management
Narrative Chapters
In the Beginning

The First Year, When Everything Changed

Camaraderie, Freedom, Mastery, and Your Soul

Loneliness and Alienation

The Turning Point

The Bending Over

Courtesy as Flirtation

The Expansion Kickstarter Part I: The Plan

The Expansion Kickstarter Part II: Backstop

The Expansion Kickstarter Part III: If You (Can) Build It…

The Doctor Who Effect
"The Core Rulebook for running a successful game store!"

—Erik Mona, Publisher, Pathfinder and Starfinder
About the Editions
The print edition of Friendly Local Game Store is a 174-page, 6×9-inch softcover book.
Rich digital editions are available in PDF, EPUB, and Mobi (Kindle) formats.
Ordering and Release Information
In May, physical and digital editions be shipped and made available for sale in all channels:
Physical editions are available through hobby game stores and distributors via our partner, Atlas Games.
Physical editions are available online through Amazon and other sellers.
All three digital editions (mobi, epub, PDF) are available at online retailers including DriveThruRPG, Warehouse 23, and others.
The Kindle edition is available online through Amazon. It's offered as a stand-alone ebook for $9.95, and also as an add-on to a physical-edition purchase for an additional $2.99, via Amazon's MatchBook program.