The White Box Essays
"[A]n invaluable tool for anyone who's serious about creating a game."
—Adam Harry @ Bell of Lost Souls
by Jeremy Holcomb with Erin Hawley, Jay Little, and Jeff Tidball
Foreword by Mike Elliott
ISBN (PDF edition): 978-0-9818840-5-9
ISBN (EPUB edition): 978-0-9818840-6-6
$7.99 (US)
About the Book
The White Box is a learning, planning, and prototyping tool for tabletop game designers.
The White Box Essays is a book of 25 essays on game design and production. It covers subjects like where to find a great concept, how to use randomness, what to ask playtesters, whether you should self-publish, how to crowdfund wisely, and what to do at game conventions. It contains:
Welcome to The White Box • Protecting Your Ideas & Why You Don't Need To (or, Why No One Will Steal Your Game Idea) • Danger! Danger! (or, Types of Games That You Should [Likely] Not be Working On) • Story or Mechanics? (Or, Where Should I Start Designing? Or, Why the Designers on Design Panels Drink) • The Roll of the Die (Advantages and Costs of Randomness in Games) • Writing Effective Rules • Bits Matter (How Components Make Your Game) • What to Do When You are Worried About Your Game Being Balanced • Bang for the Buck (How Much Fun Do Players Get Out of Your Game?) • Playtesting (Or, Hitting Your Game With a Brick Until it Bleeds Awesome) • How To More Than Double Your Game's Sales • Self-Publishing (Where Do You Get Your Game Printed?) • The (Semi-)Magical New Age of Crowdfunding • Designing an Effective Game Box • The Lies Game Boxes Tell • Box Details (What You Need to Put On Your Box If You Self-Publish) • How to Promote Your Game at a Convention Without Losing Your Shirt (Including, Especially: How to Demo Your Game) • What a Sell Sheet Is (And, Why You Need One) • Six Things You Can Say to End Your Game Pitch (And Three More Things Not To Say, Either) • How to Network at Conventions (Or, Getting Started in the Game Industry) • How to Get Your Game Into the Marketplace (Or, "I Have Games, So Now What?") • On the Dotted Line • Six Board Game Accessibility Fails, and How to Hack Them (by Erin Hawley) • Pacing Gameplay: Three-act Structure Just Like God and Aristotle Intended (by Jeff Tidball) • The Economics of Game Design and Design of Game Economics (by Jay Little)
If you believe designing board and card games sounds challenging, rewarding, and fun, The White Box and The White Box Essays are for you!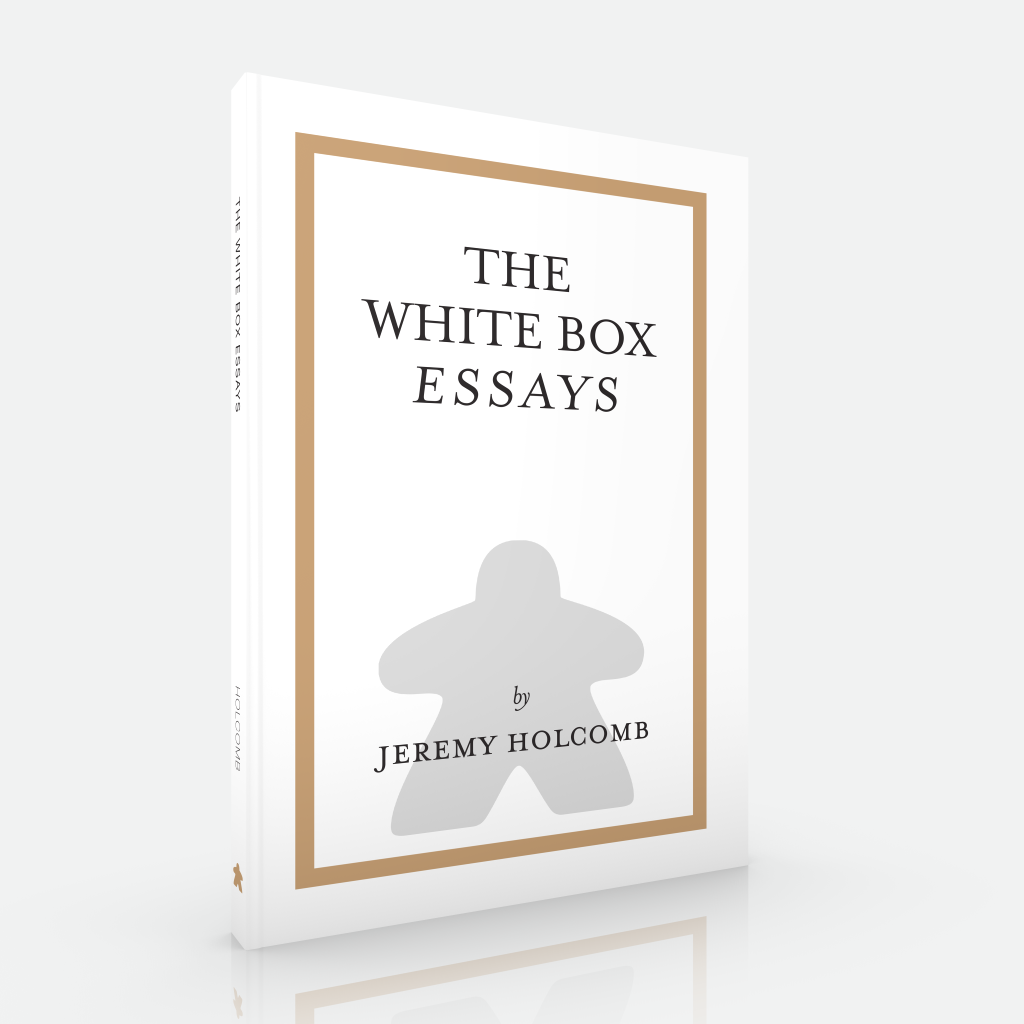 About the Editions
The White Box Essays is the book the comes bundled inside The White Box. Both were produced by Gameplaywright in cooperation with our friends at Atlas Games.
Digital and audio editions of The White Box Essays are published by Gameplaywright and available via the online merchants listed below. Available editions include PDF, EPUB, Mobi (Kindle), and audiobook.
Physical copies of The White Box — which include a physical edition of The White Box Essays as well as myriad components for creating board and card game prototypes — are available where Atlas Games are sold. Visit the Atlas Games website for more information.
Digital & Audio Editions Ordering Information
The White Box on Tabletop Simulator
Stefan Lopuszanski has created an extension for Tabletop Simulator that provides virtual versions of all of the components that come in The White Box: