I'm happy to announce that Gameplaywright Press is sponsoring what looks to be a terrific new Halloween story-game: Cthalloween! (@cthalloween) This is the new Twitter-based storytelling experience from Jay Bushman, in the vein of last year's Halloween story-game, "War of the Worlds 2," (@wotw2) and such Twitter-theater affairs as the Death Star battle reenactment, "A New Group of Signals." (I played Red 10. You choked up when I died.)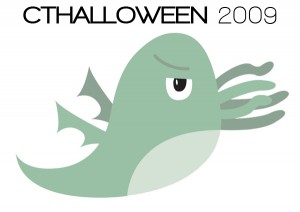 Check out more of Jay's inventive next-gen narratives via his Loose-Fish Project website.
Positioned halfway between neo-fiction and Twitter game, Cthalloween is a massively multiplayer online storytelling event (MMOSE?). To participants — like you, maybe — it's collaborative semi-improvisational storytelling. To readers not in the know, it's like a massive, mysterious play breaking out on Twitter. Either way, it's a fun way to scratch your narrative itch on this eldritch holiday. Inside your Twitter account, elder gods are on the rise, bringing with them a new season of insanity and gruesome death. It's what Halloween afternoon is for.
Want to play along? Just check out the Cthalloween wiki, devise a character for yourself, and get your Twitter account ready by Halloween day. Jeff and I may play along on our own Twitter accounts, or on the heretofore untapped Gameplaywright account (@Gameplaywright).
Need a quick primer on all this Cthulhu business? I'd be remiss if I didn't recommend Kenneth Hite's wise and hilarious Cthulhu 101.
Many thanks to John Kovalic (@muskrat_john) for the Cthalloween "Twitterthulhu" logo!