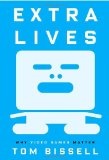 My "story+games" Google alert turned up a review of a book I hadn't heard of this weekend: Extra Lives: Why Video Games Matter
. (Also available in a Kindle edition
.)
I'm not familiar with author Tom Bissell, but interview subject Clint Hocking's name was known to me, and got my attention.
Bissell spends much of the book interviewing members of the gaming community about the unstable alliance of stories and games. According to game designer Clint Hocking, the "very nature of drama, as we understand it, is authored," but after a player seizes control, "pacing and flow and rhythm — all these things that are important to maintaining the emotional impact of narrative — go all willy-nilly." In questioning where games fit into the artistic landscape, the sharpest commentators — Bissell included — reveal society's long-held assumptions about story, character, theme and authorship.
Assuming a few tight deadlines get met this week, I think it's likely that I'll snag the Kindle version of Extra Lives to read while traveling to and from Origins the week after next.