Brett Myers tweeted a link to a blog post examining the legal questions surrounding the recent availability of files for 3D-printing your own Settlers of Catan components.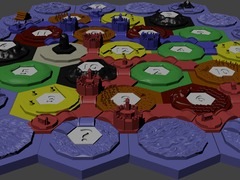 The analysis's short answer: This probably does not violate any laws.
Should this be illegal? Probably not. If this were illegal, it's hard to know how the law would be written in a way that's not more oppressive and horrifying than the things it would stop.
The part of me that finds that just a little bit alarming draws comfort from the fact that musicians, writers, and filmmakers have solved, or are in the process of solving in sensible ways, the problem of making a living in a world where the replication of their work is trivial.
I don't know anything about post author Michael Weinberg, or the group Public Knowledge. Of the former, the site says only that he's been a member for 3 years 21 weeks. The latter "is a Washington DC based public interest group working to defend your rights in the emerging digital culture."