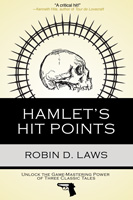 I'm happy to say that our new book, Hamlet's Hit Points, by RPG maestro Robin D. Laws, is now available for pre-order. Jump over to its product page to reserve your copy now. Copies ordered now will ship in mid-August when they get back from the printer.
If this is the first you've heard of this new book, Hamlet's Hit Points presents a system for classifying story beats and tracking their ups and downs. It's aimed at roleplayers of all types—from the stanchest grognards to the hippiest indies—and is great reading for GMs and players alike.
If you're interested in snagging a copy at Gen Con, they'll be available in limited quantities from the Indie Press Revolution and Adventure Retail booths. Robin will be signing copies at the IPR booth (#2339) on Thursday from 1:00–2:00pm and Saturday from 4:00–5:00pm.
Also at Gen Con, Robin will be presenting the system under the Hamlet's Hit Points hood in a seminar scheduled for Friday from 10:00–11:00am in Marriott Indiana Ballroom F.
(Those in the market for even more Gameplaywright goodness at Gen Con should check out our Things We Think About Games roundtable on Saturday from 1:00–2:00pm, also in Marriott Indiana Ballroom F.)
A few people have asked us about a special edition or "first twenty" promotion. We're skipping those preliminaries with Hamlet's Hit Points. No special edition is needed—every copy is special!—and we'd like to make the full print run available right away. Our thanks to everyone who bought into our launch-time specials on Things We Think About Games and The Bones, though.
Be sure to watch Gameplaywright (grab the feed if you haven't already) for more on Hamlet's Hit Points in the coming days and weeks, including a Creative Commons release of the icons and arrows used for HHP beat maps.