Hamlet's Hit Points presents a system for analyzing stories based on nine beat types and the story's ups and downs between hope and fear. In the book, beat maps show both the beat types and the emotional movements in an easy-to-digest way.
We wanted to make the icons and arrows we used to build those beat maps available under a Creative Commons license, so you can build your own beat maps. There are two archives available, one containing Adobe Illustrator (.ai) files and the other containing Scalable Vector Graphics (.svg) files. Each package also includes the specifics of the Creative Commons Attribution-NonCommercial-ShareAlike 3.0 license.
Craig S. Grant is the fine illustrator who created these graphics, and we thank him for letting us release them this way for your use.
Later Addition: Simon Rogers of Pelgrane Press has provided a symbol catalog of the HHP icons and arrows suitable for use with Campaign Cartographer 3, which are available under the same Creative Commons license. To use it, download the archive and then follow these instructions:
To install, unzip the files, retaining the folder structure, into the SymbolsOther folder of your CC3 installation. To use them, start a new map, then open the hamlet.fsc symbol catalog in the SymbolsOther folder and add them to your drawing.
Later Addition: Helpful reader Matt Anderson simplified the icons and arrows inside Illustrator and organized them into a convenient symbol library, making them smaller and more convenient to use.
Even More Formats: Helpful reader Josh Street built an Omnigraffle stencil file out of the icons and arrows. (Omnigraffle is an awesome MacOS diagramming application. There is also a version for iOS, but it's unknown to we GPW humans whether stencil files for the Mac are useful on the iPad.)
We hope you find these images useful, and that you get excited and make something with them!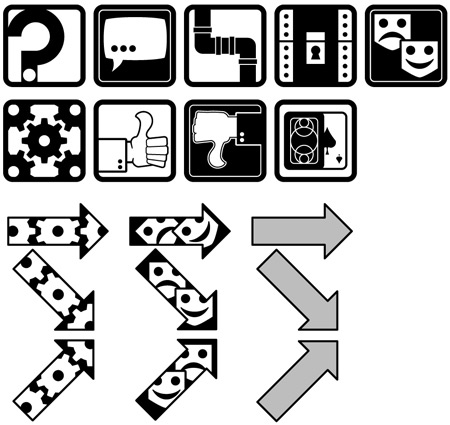 Hamlet's Hit Points Icons and Arrows by Gameplaywright LLP and Craig S. Grant is licensed under a Creative Commons Attribution-NonCommercial-ShareAlike 3.0 Unported License.
Permissions beyond the scope of this license may be available at https://gameplaywright.net/hamlets-hit-points.